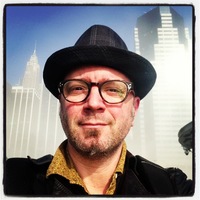 Greetings. I'm J. Walter Hawkes, but hey, you can call me Walter. I'm an Emmy-winning composer and a skilled trombone/ukulele player with a studio providing music in many forms for the greater Earth area. Here you will find numerous examples of works as well as a curated list of upcoming performances with various groups.
I provide original music for TV, Film, Video Games, and apps.
Check out the "See" page for info and video examples.
I arrange/orchestrate music for everything from a horn or string section to a big band to a symphony orchestra. Check out the "Hear" page for info and audio examples.
I play trombone and ukulele all around the NYC area and the world. Check out the "Hear" for examples and the "Calendar" page for my schedule. If you'd like to be reminded of when I'm playing near you, you can sign up for a mailing list on the "Contact" page.
I have a recording studio in Long Island City that I can record most the above in. Check out the "About" page for more info.
Upcoming Performances
Calendar for December, 2023
Calendar for January, 2024
Day?
Time?
Who?
Where?
Where???
01/03/2024
JWH Trio
Domaine Bar a Vins
5004 Vernon Blvd, Long Island City, NY 11101

DULCETONES!

01/07/2024
NYC Ska Orchestra
City Winery
155 Varick St. New York, NY 10013

Big Band Reggae Brunch! TICKETS

01/10/2024
JWH Trio
Domaine Bar a Vins
5004 Vernon Blvd, Long Island City, NY 11101
01/17/2024
JWH Trio
Domaine Bar a Vins
5004 Vernon Blvd, Long Island City, NY 11101

DULCETONES!

01/18/2024
Daria Grace and the Pre-War Ponies
Barbès
376 9th St. (at 6th Ave) Brooklyn (Park Slope)
01/22/2024
The Combine
Cowgirl
519 Hudson Street NYC 10014
01/24/2024
JWH Trio
Domaine Bar a Vins
5004 Vernon Blvd, Long Island City, NY 11101
01/25/2024
Queen Esther
Symphony Space
2537 Broadway at 95th St. New York, NY 10025-6990
01/30/2024
JWH Trio
Domaine Bar a Vins
5004 Vernon Blvd, Long Island City, NY 11101