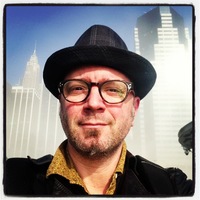 Greetings. I'm J. Walter Hawkes, but hey, you can call me Walter. I'm an Emmy-winning composer and a skilled trombone/ukulele player with a studio providing music in many forms for the greater Earth area. Here you will find numerous examples of works as well as a curated list of upcoming performances with various groups.
I provide original music for TV, Film, Video Games, and apps.
Check out the "See" page for info and video examples.
I arrange/orchestrate music for everything from a horn or string section to a big band to a symphony orchestra. Check out the "Hear" page for info and audio examples.
I play trombone and ukulele all around the NYC area and the world. Check out the "Hear" for examples and the "Calendar" page for my schedule. If you'd like to be reminded of when I'm playing near you, you can sign up for a mailing list on the "Contact" page.
I have a recording studio in Long Island City that I can record most the above in. Check out the "About" page for more info.
Upcoming Performances
Calendar for January, 2022
Calendar for February, 2022
Recent Blog Posts
Last wine bar tonight - LunÀtico- "The Hang" update
Posted on
Happy New Year!
What a mess! Wow, things have started off with a bang (or a whimper?) for sure.
Tonight! I'll be playing at Domaine Bar a Vins for my last time until March. Joining me will be Jesse Gelber and Young Kevin Dorn. Please come out and say hi. For the ...
I tested positive. No show Wednesday
Posted on
I tested positive on Saturday. I've been in isolation (My wife hasn't gotten it thank goodness) and it's not that bad, but it's not that good either.
A few things:
1. Science said omicron would spread like wildfire. I'm witnessing this first hand. At least ...